Who was the namesake of our foundation, Magnus Hirschfeld? Who were the men and women who researched, educated and advised until the early 1930s in Berlin, and through their work pioneered the modern worldwide gay rights movement?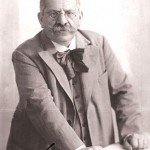 Magnus Hirschfeld (born 14 May 1868 in Kolberg, † 14 May 1935 in Nice), German physician in Berlin, sexologist and empiricist, gay, socialist, Jew, and co-founder of the world's first gay rights movement (SHC).
Karl Heinrich Ulrichs (born August 28, 1825, Westerfeld, Ostfriesland, † July 14, 1895, L'Aquila, Italy), German lawyer, early proponent of the homosexual movement.